Vice President: Ann Kreilkamp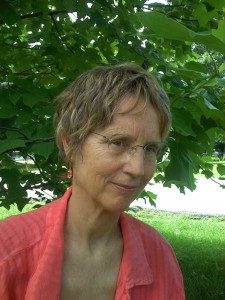 Ann Kreilkamp received her doctorate in philosophy from Boston University in 1972; one year later, she was fired from an experimental college in California as "too experimental." This launched her peripatetic career.
A student and consultant in astrology for over three decades, Ann also founded and published three experimental magazines, including Crone Chronicles: A Journal of Conscious Aging (1989-2001).
Her award-winning 2007 book, This Vast Being: A Voyage through Grief and Exaltation (www.tendrepress.com), documents the exquisite multidimensional process of conscious grieving during her first year as a widow.
After nearly two decades in a 20-foot diameter yurt in Jackson Hole, Wyoming, Ann now lives in a small ranch house in Bloomington, Indiana, to which she added a screened front porch, a greenhouse, and an inviting little bench for people who walk her street. She is a co-founder of Transition Bloomington and works with others to transform her Green Acres Neighborhood into a sustainable village.
In December 2008, Ann bought the property next door. Together with neighbors, Indiana University partners, permaculture teachers and students, and one of her two sons, by 2010 they had transformed its sunny side lawn into the award-winning Green Acres Neighborhood Garden (GANG) which function not only to grow, harvest, and preserve food, but to teach permaculture, to inspire community, and to model the seeds of a gift economy.
By 2016, the GANG had morphed into the GAPV (Green Acres Permaculture Village), both in the atmosphere that envelops the place and with the addition of another house and grounds. GAPV is now recognized as a retrofit intentional community project that practices both social and land-based permaculture. See _____ for the evolution of Green Acres Permaculture Village.
Ann's work to invoke and promote various aspects of permaculture is balanced by continuing philosophical exploration of her own unfolding nature. Her blogs and essays offer rich food for thought in an increasingly paradoxical world that has literally gone mad with unprocessed grief while simultaneously glimpsing the quantum field of eternal presence and infinite possibility.
Viewing this crone phase of her life as that of witness and midwife, Ann asks that she may help to tenderly assist the birth of the new, fragile, inclusive, and joyfully regenerative culture springing up from within the collapse of the old industrial civilization that so tragically separated us from our inner lives, from one another, from the natural world, and from our larger cosmic home.
In early 2011, she started a website, www.exopermaculture.com : Bridging Above and Below, and blogs there daily.