President: Lee Barnes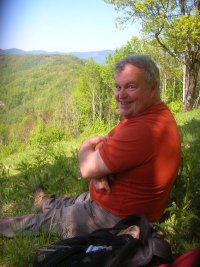 Lee Barnes (Ph.D., Environmental Horticulture) is an experienced naturalist and dedicated environmental and bioregional activist. Lee is a co-founder and current President of ARC. Lee is passionate about linking broader picture Bioregional organization with practical and local Permaculture solutions. Dr. Barnes has wide interests and writes about bioregional awareness; old growth forests; useful plants; regional seed saving; regional agriculture and gardening; and dowsing.
Lee has remained active in supporting Permaculture education since his 1993 PDC graduation. He was a co-founding member of the Eastern Permaculture Teachers Association; editor and publisher of the Permaculture Connection (1993-95); has contributed numerous articles on permaculture useful plants, local weather and microclimate, and subtle site energies revealed by dowsing; and was co-founder of the annual Permaculture Gathering (now in 20th year) in the cool shadow of Mt. Mitchell, Western NC mountains.
Lee is a well-known regional heirloom and medicinal seed saving teacher and advocate, coordinating seed saving exchanges in the Carolinas for the last 15 years. Lee received the Southern Seed Legacy Award in 2001 for his commitment to saving Southern heirloom plants. He is also a strong advocate for the controversial "rewilding" of the critically endangered plant Torreya taxifolia.
Dr. Barnes was a co-editor of the Bioregional Newsletter Katuah Journal, focusing on protection and appreciation of the Southern Appalachian Mountains Bioregion. Lee continues to support bioregional education and was co-facilitator of the 9th Continental Bioregional Congress in 2005 at Earthaven Ecovillage.
Lee "Runs with Rods" has a special interest in Sacred Sites and Earth Energies and remained active in leading and teaching dowsing locally and at the recent national convention of the American Society of Dowsers. He is an experienced professional water well dowser.
Lee visualizes that ARC can assist Permaculture education by supporting practitioners by continuing to empower and enthuse advocates, and promoting more public demonstration sites.